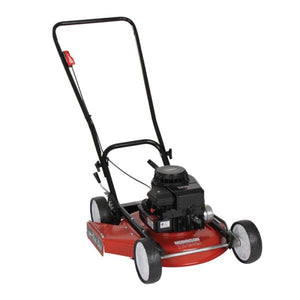 Powered by Briggs & Stratton 124cc OHV Series 450E Primer 4-stroke engine.
Chassis: 460mm heavy-duty steel chassis
Blade: Unique twin-blade system with a swingback feature to protect the crankshaft from damage if the mower should strike a solid object.
Handle: Flat handle with reinforced lower handle for added strength.
Wheels: 175mm adjustable dual bearing wheels.